We are not available on the days that some of these are offered. Can we schedule on a different day?
Yes! We will make an effort to find a day and time that works for you to visit our school community. Please fill out the Google Form for the opportunity you are interested in and our staff will connect with you as soon as we can.
---
Can we sign up for more than one?
Yes! If you are new to our school, we recommend that folks begin with scheduling a School Tour or registering for an Open House. If you feel like we are a good fit, then you can work with our team to schedule a Shadow Day. However, you can always schedule a School Tour, Shadow, or visit an Open House at your earliest convenience!
---
Where do I arrive on the day of?
Our entrance is located off Clarkson St.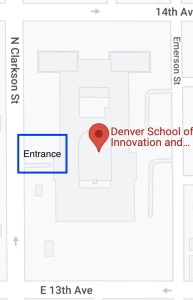 ---
Where should I park?
DSISD visitor parking is on Clarkson and 13th Ave. You may park in the small parking lot next to the school garden in any spot that is open. There is also street parking available around the building.