Friends of DSISD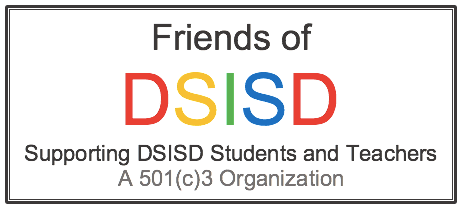 SHOP TO SUPPORT DSISD
Friends of DSISD has set up programs to help support our school just by doing your regular shopping at King Soopers, Safeway and Amazon. Here are instructions on how to get started:
KING SOOPERS
Now even easier – no extra card needed. Simply visit kingsoopers.com once and enroll in the community rewards program – listed under the savings and rewards tab. Specify Friends of DSISD as your organization. Once enrolled, you will automatically get a donation for every dollar you spend on gas, groceries and liquor just by using your loyalty card at check out. See our website for more detailed instructions.
SAFEWAY
Purchase a $5 reloadable card in the office or at any school event. You can top up the balance on this card at the supermarket checkout using any form of payment, including credit cards with reward/loyalty programs. Just let the cashier know before you start scanning your groceries. Use the reloadable card to pay for groceries, gas and liquor and the store will donate 5% of your spending directly back to the school. Every time you spend $100 on gas and groceries the school gets $5 – it doesn't get any easier. Use your card every time you shop.
AMAZON
Select Friends of Denver School of Innovation and Sustainable Design as your charity of choice (only necessary the first time) when you shop at Amazon Smile (https://smile.amazon.com Use this page for all of your Amazon shopping and a percentage of eligible purchases will be donated back to DSISD.
Friends of DSISD ha establecido programas para ayudar a apoyar a nuestra escuela simplemente haciendo sus compras habituales en King Soopers, Safeway y Amazon. Aquí hay instrucciones sobre cómo comenzar:
KING SOOPERS
Ahora aún más fácil: no se necesita tarjeta adicional. Simplemente visite kingsoopers.com una vez e inscríbase en el programa de recompensas de la comunidad, que figura en la pestaña de ahorros y recompensas. Especifique Amigos de DSISD como su organización. Una vez inscrito, recibirá automáticamente una donación por cada dólar que gaste en gasolina, comestibles y licores con solo usar su tarjeta de fidelidad al momento de pagar. Consulte nuestro sitio web para obtener instrucciones más detalladas.
SAFEWAY
Compre una tarjeta recargable de $ 5 en la oficina de la oficina principal o en cualquier evento escolar. Puede recargar el saldo de esta tarjeta en la caja del supermercado utilizando cualquier forma de pago, incluidas las tarjetas de crédito con programas de recompensa / lealtad. Simplemente avísele al cajero antes de comenzar a escanear sus compras. Use la tarjeta recargable para pagar los alimentos, el gas y el licor y la tienda donará el 5% de sus gastos directamente a la escuela. Cada vez que gasta $ 100 en gasolina y comestibles, la escuela recibe $ 5; no es más fácil. Use su tarjeta cada vez que compre.
AMAZON
Seleccione Friends of Denver School of Innovation and Sustainable Design como su organización benéfica preferida (solo es necesario la primera vez) cuando compre en Amazon Smile (https://smile.amazon.com Use esta página para todas sus compras en Amazon y un porcentaje de las compras elegibles serán donadas a DSISD.