Competency Based Education
What is Competency Based Education?
Competency Based Education (CBE) is an approach to learning that requires students to master the skills and knowledge at one level before they can advance to the next level. The purpose of competency-based education is to ensure that students have a strong foundation of knowledge and skills to build on as they progress through school and prepare for life after graduation.
In traditional schools, students are grouped based on their age, and they progress through school based on seat time, or the school year. In competency-based schools, students progress through school based on their learning and readiness. Once students can show mastery of skills and knowledge at one level, they can advance to the next level. In our model, this could mean, that when a student demonstrates readiness for an AP or Concurrent enrollment class, we can place them in one during on-boarding opportunities based on their academic needs and readiness, not their grade level.
CBE also means that if students have gaps in skills, we will we will work hard to provide them with the supports needed to address learning needs, build skills, and help students continue to make progress in their learning. We also support students in developing habits of success and other "soft skill competencies" that we know will support them in high school, and prepare them for college and career. (See our Project based Learning Page for DSISD competencies)
We use the Summit Cognitive skills to assess student learning on projects. Rather than each content area having their own separate set of standards, we use a rubric of  36 cognitive skills that students use across all content areas.*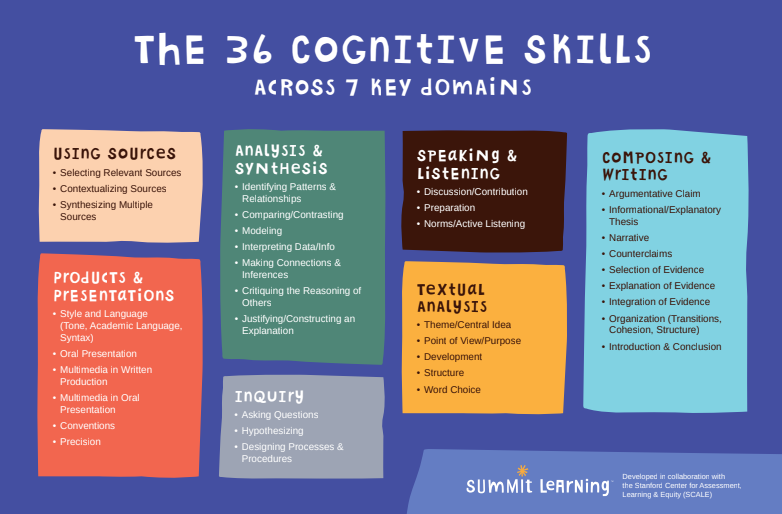 *Math also uses concept units
Check out these links if you want to know more!
In depth look at the 5 principles in the definition:
Detailed Definition of Competency Education